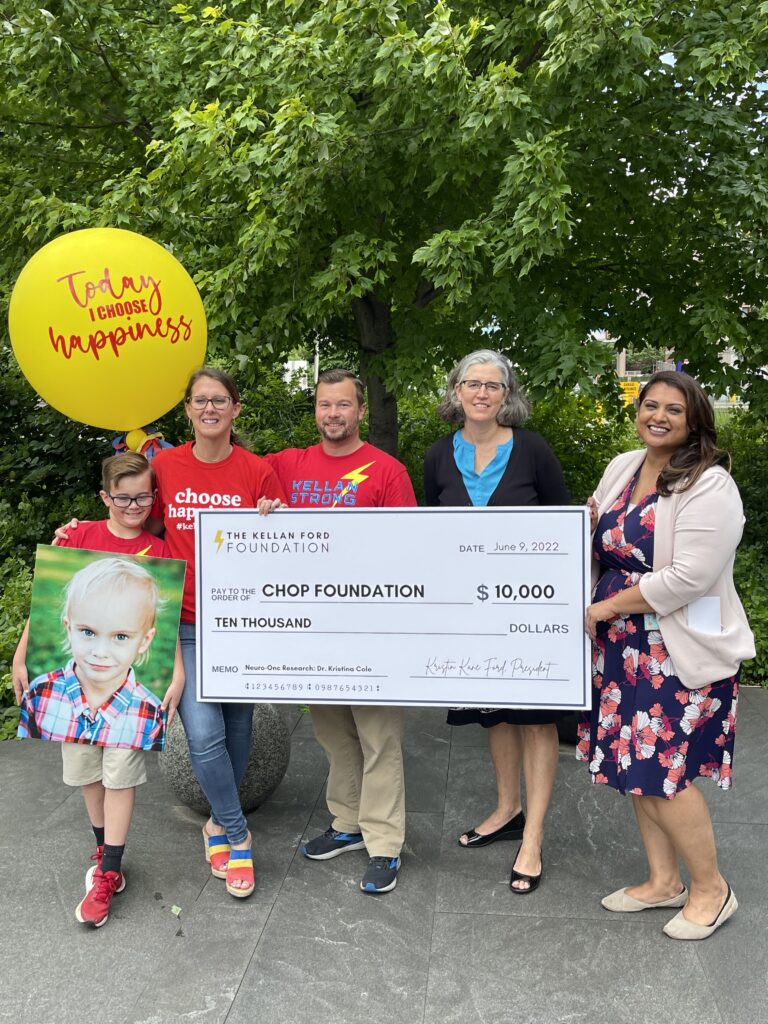 The Kellan Ford Foundation, a 501(c)(3) non-profit is proud to directly fund pediatric research grants dedicating to improving outcomes and lessening the side effects of cancer treatments to improve quality of life.
Our ultimate goal is to one day find a cure.
---
---
PEDIATRIC RESEARCH GRANT 

June 9, 2022 (Philadelphia, PA) –  Mike, Kristin and Parker Ford, Kellan's family, presented the CHOP Foundation and two of Kellan's doctor's, Dr. Kristina Cole and Dr. Kavita Desai with a check for $10,000 to support their research for pediatric brain cancer.
(Photo L to R: Parker, Kristin, Mike, Dr. Cole. and Dr. Desai.)
---
ONGOING RESEARCH INITIATIVES
Currently The Kellan Ford Foundation has teamed up with other Medulloblastoma families to help fundraise for a Research Grant that will go to OncoHeros 2HIT Medulloblastoma research project. This project focuses on Medulloblastoma Group 3 with MYC-amplification, this variation has a poor prognosis.
Click to learn more about our Medulloblastoma families and to donate to this project.